The custom printed labels that appear on every consignment are there for the most obvious of reasons – to ensure your packages get to the right place at the right time. Printed labels are still required for packaging, but with the emergence of more refined technology systems, computerized labels are another great option. Bar coding is one example of this new technology. Bar coding has made it possible for custom printed labels to be logged in at a delivery warehouse and then tracked by the client and supplier. At TOTALPACK, we offer you the option of creating custom printed labels with bar codes so you can keep an eye on your packages at all times. These bar codes can either be the same for a set of shipments or a consecutive set, giving each parcel its own identification number. This method has been growing in popularity over recent years and is an excellent way to ship containers without added anxiety.
The packaging company provides the custom printed labels, while the courier companies will also have their own versions. These bespoke shipping labels are unique to the courier company and come with a bar code already on the plastic envelope.
A Few Types of Custom Printed Labels Available: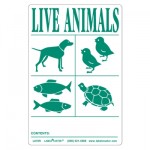 Live Animal Labels: These Live Animal Labels provide a quick reference for shipping personnel. Air labels comply with the requirements in International Air Transport, ICAO and DOT for marking the package orientation. Paper shipping labels have strong adhesion to corrugated boxes and they help to keep you in regulatory compliance.
Hazardous Materials Labels: Eliminate unnecessary accidents by alerting people to the dangers present from hazardous residue remaining in empty drums. These Empty Labels serve as notice that empty containers that previously contained hazardous materials can produce hazardous conditions when punctured or welded. These waste labels feature automotive-grade ink pigments and specially formulated adhesives.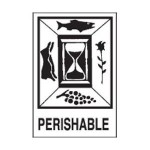 Perishable Labels: This eye-catching label gives package handlers immediate notice that your food products must be kept frozen or refrigerated at a constant temperature for the duration of the shipment. IATA requires a high-visibility label for all air shipments of perishable goods. Perishable Labels are printed on heavyweight-coated paper. These labels have outstanding chemical and abrasion resistance and adhere securely to corrugated boxes.
Handling Labels: These Fragile This End Up Labels are designed to help identify delicate objects. Featuring strong adhesion to corrugated boxes, paper handling labels have outstanding chemical and abrasion resistance. Fragile Labels are designed to help identify fragile objects and alert handlers that extra care is required. All of the above tags are available to become custom printed labels for your business.
TOTALPACK offers limitless deigns and can equip your custom printed labels with a bar code if you so choose. For all options, please call 1-866-760-7866 and speak with a trusty sales representative today.